The Mega Money Wheel game is engineered by Buck Stakes Entertainment. Affiliated with the Games Global group, the world leader in Internet gambling, Buck Stakes is an expert in online slot machines with huge payout options.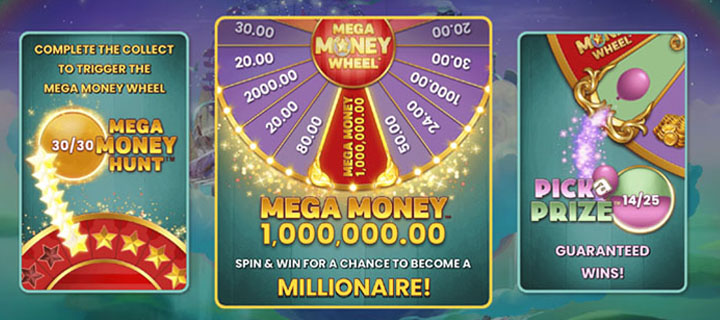 Mega Money Wheel is not like your average slot machine! Basically, designed to give you the chance to win million-dollar jackpots, the wheel attracts players looking to win big prizes.
The visuals are fantastic, as are the soundtrack and sound effects.
Mega Money Wheel at a glance
Category
Wheels of Fortune
Designed by
Buck Stakes Entertainment
Provided by
Games Global
Payout rate
RTP 96.17%
Volatility
High
Min. and max. bet per spin
From 0.10 to 20.00
Playable currencies
$, €, CA$, £, ¥, etc.
Jackpots
There are three of them! The Mini, the Major and the MEGA.
Max. wins
Mega jackpot of 1 million
Other max. wins of 500x the bet
Auto Play Function
Yes, from 10 to 100 spins in a row
Free spins and Bonus Spin
Yes
Max. jackpot available
1 Million
Release date
August 20, 2022

The Mega Money Wheel is featured at many Games Global-affiliated online casinos. Based on wheels of fortune and slot machine mechanisms, the Mega Money Wheel is made up of different segments and winning chances. Although the game is volatile, it has a strong following on the Internet.
Theme and Design
The game's design depicts the earth's surface from above. Set in a fairground atmosphere on a set of clouds, the game immerses you in a carnival of bright colours. A Ferris wheel is the main attraction, complete with tents and a pink flamingo.
In the background is a magnificent landscape, and the colour palette forms a natural gradation.
The game's soundtrack is perfectly suited to the game's ambiance, with dream-like melodies. Each moment in the game has its own unique sound effects, which showcase the wheel's high-quality design.
Mega Money Wheel is multiplatform
Suitable for all screen sizes on computers, tablets and smartphones, Mega Money Wheel has become extremely popular. To start betting, all you need to do is sign up at an online casino featuring Buck Stakes Entertainment games.
The Wheel of Fortune can be played both with and without an App. App-free play is certainly a good option. The game loads directly onto your web browser using instant game technology.
In addition to the wheel's portability to all types of devices, Mega Money Wheel is multi-currency. Basically, if you play in US dollars, it will pay out in USD.
Bonus features
Before going into detail about the game's various bonus features, it's important to point out that ordinary wins work with multipliers of different levels. The bonus features are as follows:
PICK A PRIZE


This is triggered when you accumulate 25 balloons, which give you the chance to conjure up 3 symbols, each awarding prizes that add up in rewards for the player. A reward is guaranteed in this spin, whether you choose it yourself or let the game decide for you.

MEGA MONEY HUNT


This is activated when you stack 30 stars and triggers the bonus wheel where you can win the Mega Jackpot.

MEGA MONEY WHEEL


This allows you to spin a special wheel, which offers a variety of winning opportunities. Prizes can be either fixed amounts or jackpots.

JACKPOTS


Available in 3 different versions: the Mini is worth 100x the bet, and the Major 500x the bet. The Mega Jackpot is always worth 1,000,000.
RTP and Volatility
The Mega Money Wheel has a high volatility! In other words, it's not easy to win big prizes. Of course, you can also win intermediate prizes.
The Mega Money Wheel RTP rate is set at 96.17%. Compared with slot machines with jackpots of at least 1 million, the Mega Money Wheel's RTP rate is above average. Indeed, if you take the example of the Mega Moolah slot machine, a progressive jackpot game where you can win millions, the Mega Money Wheel payout rate is much higher. The Mega Moolah's RTP rate is 88.12%.
Mega Money Wheel game symbols
The Mega Money Wheel's standard and bonus wheel segments feature prizes that multiply winning bets. Only the MEGA MONEY prize of 1 million is fixed.
The Silver segment features 3 distinct variants:
A pile of money with a payout value of 0.8x and 1.5x your bet.
A large pile of money with a value of 2x and 5x your bet.
A bag of money that awards between 6x and 20x your bet.
The cumulative symbols are the Pink Balloon and the Star, each of which triggers a free bonus spin.
How to play the Mega Money Wheel?
Once you've started the game, look at the functions on your screen. A help menu gives you all the details on how the Wheel of Fortune works.
Once you've chosen your base betting value, the MINI and MAJOR jackpots are adjusted accordingly. Your credit is always displayed, along with the total number of balloons and stars accumulated.
You can also customize the general game settings and sound effects. The game also gives you the option of activating a fast spin function, which is ideal for players who want to spin the wheel over and over again.
Would you like to play? Then, go to our best designed online casino page for a chance to win the million on the Mega Money Wheel.
Increase Your Chances of Winning Big
By betting $20 per spin, you'll increase your chances of winning. Not only will you be able to pocket handsome sums of money on all types of wagers, but you'll also be in line to win the million-dollar grand prize.
Betting $20 per spin on a wheel of chance is a lot of money. And to really boost your chances of hitting the jackpot, you'll need to go for at least 100 spins in a row. Setting your Mega Money Wheel spins with bets from $1 to $5 can be a great way to control your budget.